2019 Kentucky Derby Betting Odds
The official 145th Kentucky Derby on May 4, 2019, runs under race 12 at 6:50pm EST. Known at "the most exciting two minutes in sports" the derby number allows for up to 20 entrants. After a couple of early scratches "Omaha Beach 4-1 favorite" and "Haikal 30-1 longshot", we are down to 19 remaining horses.
• When: Saturday, May 4 at 6:50pm ET
• Where: Churchill Downs Racetrack
• TV: NBC
• Live Stream: NBCsports.com
2019 Kentucky Derby – Betting Favorites
It helps to break down our handicapping into favorites and dark horses and longshots. Here is a quick rundown of the favorites, horses offering Kentucky Derby odds at less than +500 or 5-1 (favorites) and up to 50-1 +5000 (longshot), to win the Run for the Roses!
2019 Kentucky Derby
Favorites:
• Roadster +600 or 6-1
• Game Winner +500 or 5-1
• Improbable +600 or 6-1
• Tacitus +600 or 6-1
Dark Horses:
• Maximum Security +800 or 8-1
• Vekoma +1300 or 13-1
• Code of Honor +1500 or 15-1
Longshots:
• TAX +2000 or 20-1
• Master Fencer (JPN) 50-1
• Country House 45-1
How to read odds and their implied probability of winning: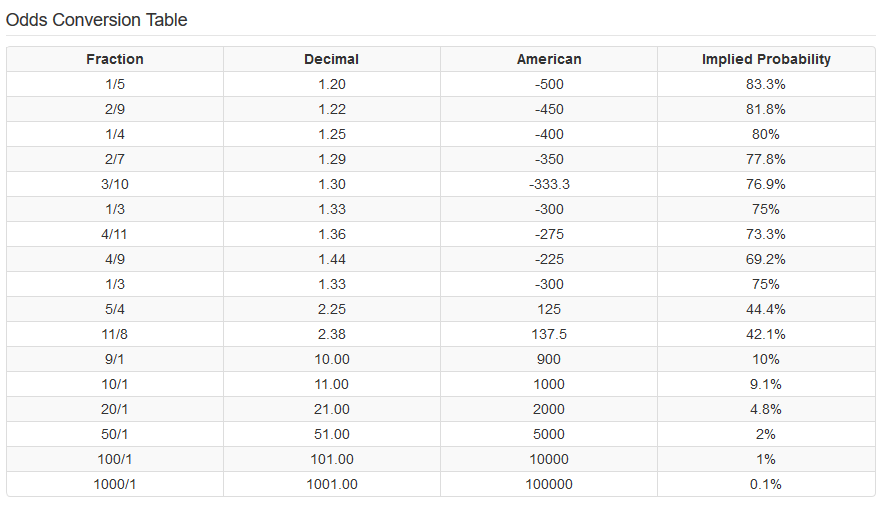 Current Derby Fixed Odds: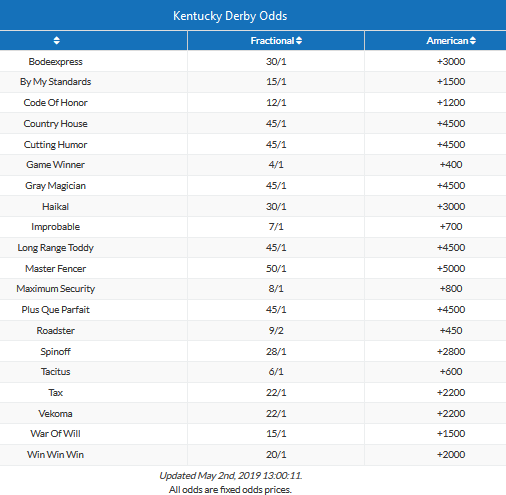 Meet the horses:
Roadster
The Santa Anita Derby winner sure looks like a solid play, but there are some questions. Yes, he beat Game Winner in the SA Derby, but he didn't run particularly fast, at least, not as fast as Omaha Beach, Maximum Security, and Tacitus did when they won their Derby prep races. Not only that, but the extra 1/8 of a mile could be kryptonite to this Quality Road runner. Beware the short odds.
Game Winner
The two-year-old champion couldn't get by Omaha Beach in the Rebel Stakes. Then in the Santa Anita Derby, he couldn't hold off Roadster. What's even more worrisome is that he doesn't appear to have gotten any faster as a three-year-old than he was as a two-year-old. He'd have to improve on the first Saturday in May and that's hard for a horse to do.
Improbable
The final Bob Baffert trained horse that will enter the Kentucky Derby starting gate showed all sorts of talent after going undefeated as a two-year-old. However, this year, like Game Winner, he hasn't improved that much. He let Long Range Toddy run him down in the other division of the Rebel Stakes before not being able to get past Omaha Beach in the Arkansas Derby. If he improves he can win, but right now, it's hard to see that happening.
Maximum Security
The Jason Servis trained Florida Derby winner is undefeated in 4 races. Not only that, but he's run faster than most any other horse entered in the Derby. Some believe he's just a speedball, but he runs so effortlessly and pays such close attention to his jockey's cues that it's hard to see him not rating behind horses if he must. He might be a freak, which makes him a great play at +1000.
Tacitus
The Wood Memorial winner is trained by the great Bill Mott, the man who saddled the incomparable Cigar. Mott doesn't often have a Derby runner. This horse was sired by Tapit, though, which makes him the best bred horse in the race. Not only that, he won both the Grade 2 Tampa Bay Derby and the Grade 2 Wood Memorial. There's a lot to like about Tacitus.
Vekoma
He's got a funky stride that might turn off some horseplayers. But, here's the thing, he laid way off in the Fountain of Youth and made a winning move before having trouble in the stretch. Then, he laid right off the pace in the Blue Grass Stakes and did win. Vekoma has shown the ability to run whatever way his jockey and trainer wants him to run. That means he has flexibility heading to Churchill Downs. Flexibility is a wonderful thing to have in the Kentucky Derby.
Code of Honor
He's a borderline favorite. Even if you think of him as a longshot, Code of Honor is hard to endorse. He ran great when winning the Fountain of Youth, but he didn't step forward in the Florida Derby. He'll have to improve to have any shot of hitting the board.
Tax
Kentucky Derby profile on the horse called Tax. Tax improved from a third place finish in the Remsen Stakes at Aqueduct, with a first place win in the Withers Stakes. Having traveled over the Churchill Downs surface to place second and eventually break his maiden at Keeneland in his second start, the bay gelding by Arch shows growing potential on the Kentucky Derby Trail. Tax is ridden by jockey Junior Alvarado and trained by Danny Gargan.
Country House
Country House has hit the board in four of his six races but has crossed the line first just once in four races in 2019. In his three stiffest tests — a pair of Grade 2 races and a Grade 1 race — the chestnut colt finished second, fourth and third. Just one horse has won the Derby from the 19 post — I'll Have Another in 2012.

Special Kentucky Derby Offer from BetUSRacing:
Promo code: KENTUCKY
Your players will receive a 25% cash bonus with their deposit of $100 or more, a 4x rollover applies.
This promotion will be valid from April 22 until May 4 of 2019 and it can be cashed one time only.
Free Bet
When your players place a wager of $25 or more on the Kentucky Derby, they will automatically receive a $10 free bet for the Preakness Stakes.
Customer must have at least $10.00 available in the account to place the wager
Kentucky Derby Blackjack Tournament
Play any Blackjack variation from May 4 until May 17 and receive cash prizes up to $1000.
The top 10 players with the highest winning percentage will get a cash prize deposited into their account.
Triple Crown – Additional Bonuses
Place any wager of $25 or more on the Kentucky Derby, Preakness Stakes and Belmont Stakes and receive:
• $25 cash bonus with 5rx
• $25 in Black Jack with 20rx
• 100 % reload bonus with 20rx