The Super Bowl is coming up in less than two months. The National Football League is getting to the postseason, which is the best time of year. The teams are undecided of course, and as always, it will be up for grabs once the postseason begins. It should be a solid postseason, which will lead to a great Super Bowl. We looked back at some of the most memorable Super Bowls in NFL History, so let's review the games that should be in every football fan's list:
Remember the David Tyree Catch?
Well, that's at the top of our list. Eli Manning did not make a good throw. That cannot be a surprise, right? The quarterback that many call overrated has two Super Bowl rings. Well, Tyree made that catch, and the Giants beat the Patriots in a 17-14 slug fest. That was in 2008. Pretty much, we can call what David Tyree performed a Houdini act.
Back in 1969
Joe Namath guaranteed the New York Jets would win. While that does not sound all that difficult, keep in mind his Jets were huge underdogs against the Baltimore Colts. The Jets defense did the job, as they allowed just a touchdown and won the game 16-7. That was the greatest moment for nearly 40 years. It will never be forgot.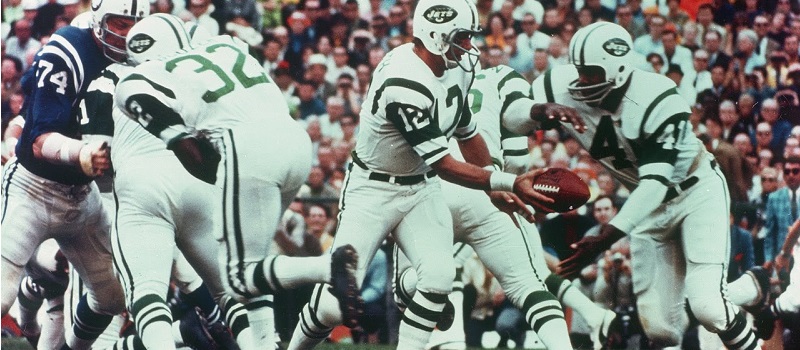 Remember in 1979 when the Pittsburgh Steelers won another Super Bowl?
This time over the Dallas Cowboys? This is known as one of the best Super Bowls of all time due to the game that Terry Bradshaw had. He was outstanding, with nearly 400 passing yards and 4 touchdowns. While Dallas could score that season, their 31 was just not enough in this game.
Other Mentions:
You wondered how long it would take until we found one of the greatest games because of a negative moment, right? Well, the Buffalo Bills best chance to win a Super Bowl came in 1991. This was when Scott Norwood missed a field goal wide right. This game is marked as the only game in Super Bowl History to be decided by a single point.
We are still wondering why Pete Carroll did not call for a run play with Beast Mode Marshawn Lynch. This was the most recent, back in 2015 when New England downed the Seahawks 28-24. Instead of handing the football off, Russell Wilson threw a slant, and it was intercepted by the Patriots for the win.
The final one we want to discuss, for now is when Jake Delhomme was almost the Super Bowl MVP. Yeah, the crazy part is – he would have beaten out Tom Brady. This time the Patriots won again, over Carolina. Adam Vinatieri kicked the game winning field goal, and erased such good play from the Carolina quarterback. Remember this game? Well, likely you remember wardrobe malfunction which happened at this event.
Those are just a few of the great moments in Super Bowl History. There are a ton more, but we will have to get to those later. We hope you enjoyed, and are ready for Super Bowl 51 upcoming in February!